Buy not what you want, Just Rent what you need.
"Easy to Buy and Easy to Rent!
Enjoy a lifestyle rental service at MYOMEE!"
MYOMEE is an untact online rental platform that makes you to consume various
products reasonably in daily lives by a convenient monthly payment plan.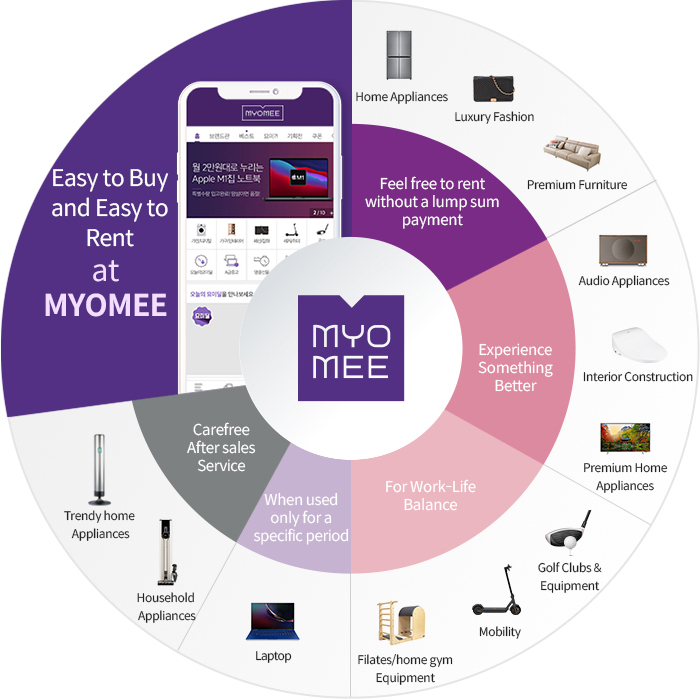 Just renting a water purifier?
Experience a variety of products at MYOMEE!
From premium home appliances and furniture to trendy leisure/fashion/golf/pet products,
MYOMEE offers a wide range of products for everyday life as a long-term rental.
Enjoy a more satisfying life with affordable rental shopping!
Rental service type of MYOMEE

When the cost is borne, you can take over the product after paying the cost in installments for the desired period.
Acquisition-type rental service

You can choose to return or take over after paying a monthly rental fee for a certain period of time.
Return type rental Service

It is also possible to purchase when there is no cost burden.
Lump sum pay

Benefit of MYOMEE

You can pay in installments up to 48 months, but there is no credit card limit deduction or installment fees.

payment possible without commission
in the middle of the contract period

Long-term aftersales service
even after warranty period