Anywhere, when needed with General Rental
Continually expanding it's service offering from home, office to business. We rent various items professionally and
offer innovative services in every area.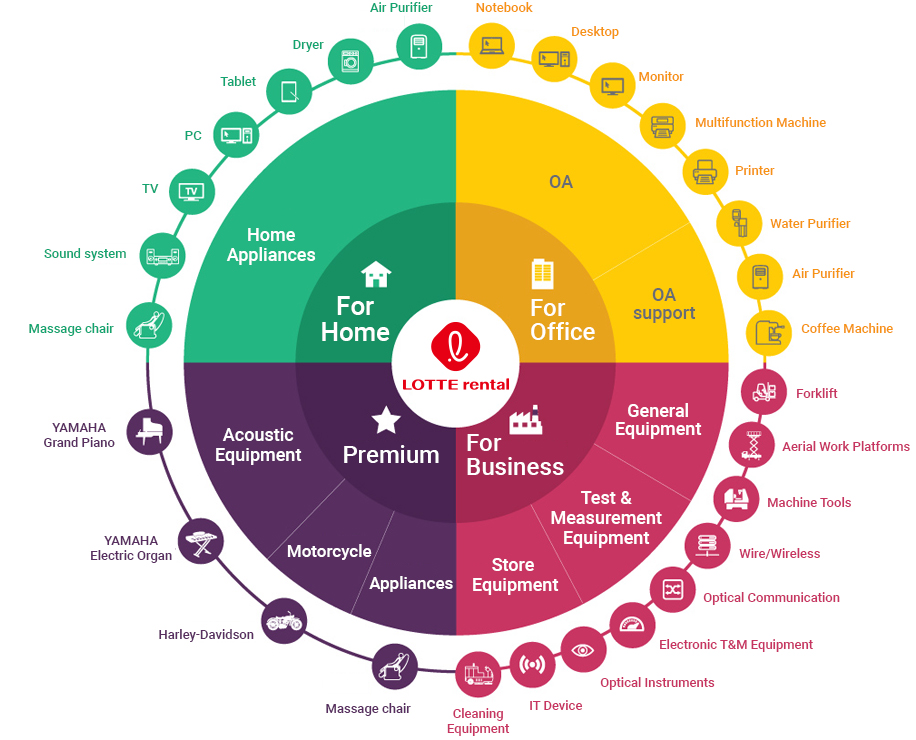 OA Rental
OA device rental products such as PC, multifunction machine etc., is available for customers to rent for the desired period of time at a reasonable price. Maintenance and aftersales services are also included during rental period to avoid any inconveniences that may occur for customers.
Product categories

Office equipment include notebook/ desktop/monitor/multifunction printer/ copy machine/ printer/ shredder machine etc.

Rental Period

1 week ~ 60 months (Rental period may be selected according to customer's need)

Target customer

Company and organization
Main item
All OA/Office devices can be handled!
Notebook

Desktop

Monitor

Multifunction machine

Printer

Output Management Solutions

Shredder machine

Beam Projector

Wacom Tablet
Main customers
Many famous companies, including kt, LOTTE Cinema, S-OIL, Daewoo E&C and GKL., are joining the LOTTE rental company.
Call Center : 1577 - 5100

1

2
OA equipment rental inquiries
Environmental Appliance Rental
We not only provide you with cost reduction through our environmentally friendly appliance products optimized for your working environment but also the highest quality after-sales service.
Product Category

The country's best quality service brand for water purifier, bidet, air purifier products.

Contract Period

36 ~ 60 months

Target Customer

Corporate customers
Ice-maker machine, Water purifier

Standard, Premium bidet

Small and large size air purifier

Massage chair
Call Center : 1577 - 5100

3
Water purifier, bidet etc. household
appliances rental inquiries